At EuroBLECH 2022, drive and automation specialist Baumüller will be presenting modern technology solutions for sheet metalworking machines in hall 27, stand C155. The Nurembergbased company is taking part in the world's largest trade fair for the sheet metalworking industry, which will be held in Hanover from October 25 - 28, 2022. At the stand you will find out why, among other things, servo eccentric presses are a good alternative to conventional pressing methods, what advantages the use of modern simulation technology in the engineering of sheet metalworking machines can offer and how Baumüller SmartValue can reduce the production CO2 footprint permanently.
Complete drive system for more flexibility
The stand focuses on the overall Baumüller package for the automation of servo eccentric presses. Compared to conventional presses, these presses have the edge in terms of productivity, product quality and flexibility. With high-performance direct drives and the compatible control unit, the processes can be optimized with regard to cycle time, tool wear and tear, energy use, and environmental compatibility. Baumüller has many years of experience in equipping servo eccentric presses and, as a fullrange supplier, is at your side from the planning to the engineering to commissioning, and service.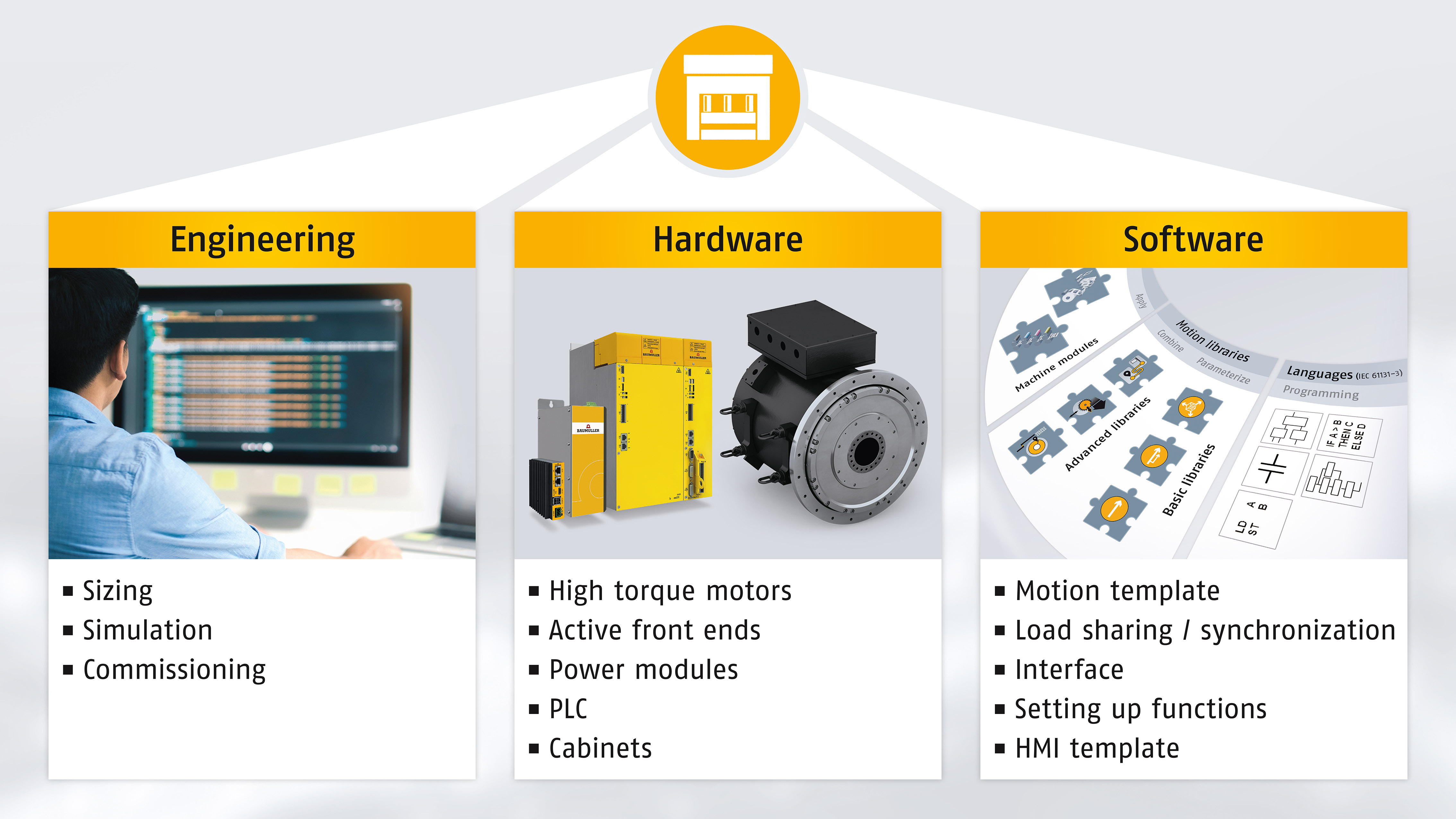 Baumüller offers a complete system for servo eccentric presses consisting of the engineering, hardware, and software
Particular highlight: Baumüller will be demonstrating its complete drive system live at the trade fair stand using a fully-functional miniature servo eccentric press. The solution impresses with its space-saving structure and clearly illustrates Baumüller's system competence. The press profiles can be created easily and quickly with the user-friendly user interface.
Drive design with ProSimulation
The digital twin offers many advantages, especially during the engineering phase: The development time is shortened and the machine can therefore be placed on the market as quickly as possible and functionally reliable. With ProSimulation, Baumüller offers simulation models of its drive components. In addition, Baumüller carries out the complete design of the design technology for its drive technology.

The simulation model of the servo eccentric press in ProSimulation enables efficient drive design and minimum connected system load of the machine
This offers numerous advantages, above all for complex applications such as servo eccentric presses: It enables the selection of an efficient and resource-saving drive package. For example, the whole drive topology can be mapped in the software. This consists of the nonlinear transfer ratio of the eccentric mechanics, gearing, high-torque motors, servo drive technology and energy store in conjunction with dynamic movement and force profiles. The simulation creates transparency in the power and energy profiles and describes loading and unloading processes in detail. This enables efficient dimensioning of the energy store and therefore the connected system load can be reduced. This saves resources, relieves the power system considerably and reduces the machine's footprint.
Powerful hardware for more power and energy efficiency Applications for sheet metalworking pose major challenges for power, speed and compactness. Baumüller offers a scalable portfolio specially for these requirements. Our DST2-series high-torque motors achieve very high maximum torques, in order to provide the necessary power for the pressing process. The motors can be perfectly adapted to the press's requirements thanks to different shaft and flange options.In addition, Baumüller will be presenting the converter family b maXX 5000 for high performance classes. The servo drives impress with their compact installation dimensions and offer a broad and scalable selection of optional safety functions. The devices also have the option of energy recovery. The connected system load can be reduced by intelligent energy management and the use of capacitors as energy stores, which in turn saves energy and costs.
On the control level, with the powerful Box-PC b maXX PCC-04, Baumüller offers a scalable platform with diverse possible uses. This offers a large number of interfaces, is expandable and thus allows for a flexible machine architecture. With the b maXX PLC mc control platform, Baumüller combines the properties of industrial PCs and PLC controls and thus covers the area between these two existing solutions optimally. The system has convincingly handy dimensions of 110 x 90 x 35 mm and is therefore extremely compact. Baumüller offers suitable HMI panels with touch display for user-friendly machine operation.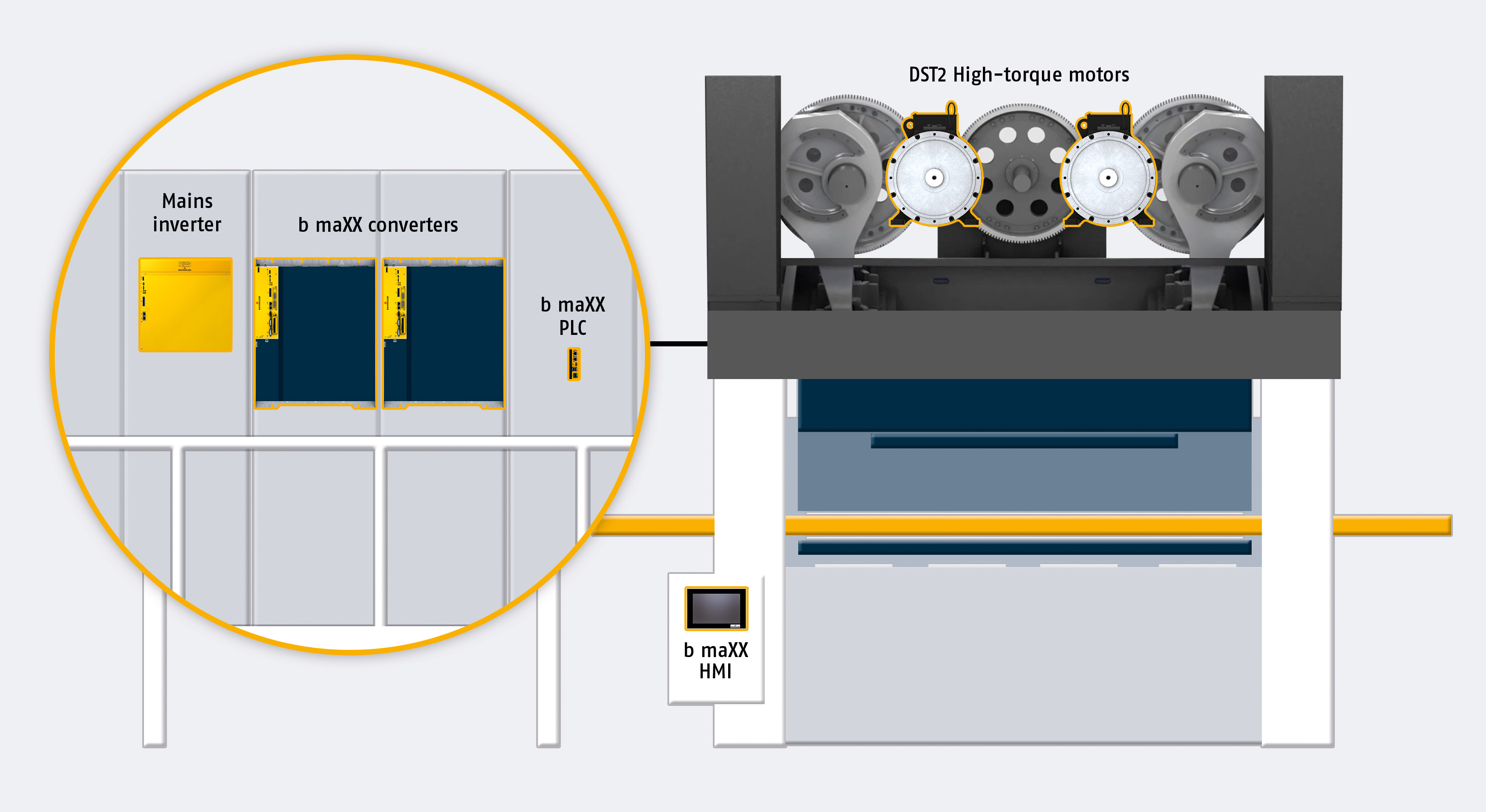 Baumüller has many years of experience in equipping servo eccentric presses and is at hand to assist potential customers as a full-range supplier
Charming solution: retrofitting a conventional press
The drive system of a conventional eccentric press consists of an asynchronous motor, flywheel and coupling-brake combination. This system can often be replaced by a servo drive system, in order to continue to use an existing machine and to benefit from the advantages of a servo solution. With a retrofit, a large part of the mechanism is retained and only the drive system is renewed. This solution increases the flexibility, productivity and product quality of the press. Another positive aspect: A retrofit is a sustainable solution, which extends the life of the machine and saves resources.
Life-cycle management worldwide
In addition to the development and manufacture of automation components, Baumüller as a group of companies provides numerous services for mechanical and plant engineering and for machine operators. From project planning, design and engineering through assembly and commissioning to maintenance, retrofitting and relocation, Baumüller offers support over the entire life cycle of machines and systems. Baumüller attaches particular importance to the sustainable and resource-saving production of intelligent drive and automation solutions.
Based in Nuremberg, Baumüller is a leading manufacturer of electric automation and drive systems. At production sites in Germany, the Czech Republic, Slovenia and China as well as in over 40 branches worldwide, around 2,000 employees develop and produce intelligent system solutions for machine manufacturing and e-mobility. In addition, the range of services offered by the Baumüller Group includes engineering, assembly and industrial relocation as well as services, thus covering all aspects of life cycle management.